Lena Mamykina, Ph.D.
Assistant Professor
Department of Biomedical Informatics
Columbia University
<![if !vml]>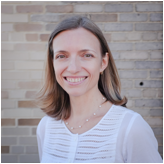 <![endif]>
CONTACT
622 West 168th St. PH-20
New York, NY 10032
Phone: (212) 305-3923
lena.mamykina[at]dbmi.columbia.edu
I am an Assistant Professor of Biomedical Informatics in the Department of Biomedical Informatics at Columbia University. My primary research interests reside in the areas of Biomedical Informatics, Human-Computer Interaction, Ubiquitous and Pervasive Computing, and Computer-Supported Collaborative Work.
My broad research interests include individual and collective cognition, sensemaking and problem-solving in the context of health, health care, and health management. My research group, Action Research for Collective Health (ARCH) views health and health management as residing within families, communities, and societies, and as impacted by culture, business, and policy. In ARCH, we develop novel technologies that help individuals to take a proactive stance towards their own health and to change their environment to make healthy and responsible lifestyle accessible to everyone.
At the same time, I am interested in the functioning of the healthcare system and in the ways it adapts to the changing demands and expectations of the society. I study how clinicians collect and use information to make decisions in regards to patient care, how clinicians on patient care teams communicate and coordinate their work and make decisions together, how clinical communities share knowledge and expertise, and how computing technologies facilitate or inhibit these processes.
I received my B.S. in Computer Science from the Ukrainian State University of Maritime Technology, M.S. in Human Computer Interaction from the Georgia Institute of Technology, Ph.D. in Human-Centered Computing from the Georgia Institute of Technology, and M.A. in Biomedical Informatics from Columbia University. My dissertation work at Georgia Tech focused on facilitating reflection and learning in context of diabetes management with mobile and ubiquitous computing. Prior to joining DBMI as a faculty member, I completed a National Library of Medicine Post-Doctoral Fellowship at the department.
News
CSCW 2017: Drashko Nakikj will be presenting his paper "A Park or A Highway: Overcoming Tensions in Designing for Socio-emotional and Informational Needs in Online Health Communities".
CHI 2017: Our lab will be well represented at CHI 2017 with two talks: Marissa Burgemaster on "Social Computing at the Intersection of HCI and Public Health: Identifying Mechanisms for Casual Learning about Nutrition", and Maria Hwang, "Monster Appetite: Effects of Subversive Framing on Nutritional Choices in a Digital Game Environment"
Upcoming Travel and Talks
March 28, 2017, DC NSF review panel
May 6-11, 2017, Denver, Colorado: CHI 2017
Advising
Post-Docs
Marissa Burgemaster, PhD
Marria Hwang, PhD
PhD Students:
Silis Jiang (DBMI)
Drashko Nakikj (DBMI)
Michelle Chau (DBMI)
Elizabeth Heitkemper (Nursing)
MS Students:
Yueting Lu (CS)
Undergraduate:
Pooja Desai
Alumni
Healther Cole-Lewis, PhD
Research Projects
Mobile Diabetes Detective (MoDD)
MoDD is a NIDDK-funded project in which we investigate ways to facilitate problem-solving and sensemaking in diabetes management. MoDD is an interactive web applications that helps individuals with diabetes recognize specific problems related to glycemic control, reflect on their behaviors that might contribute to problematic blood glucose patterns, and think about how to change their behaviors to improve diabetes self-management. We are currently conducting a randomized controlled trial of MoDD with individuals with diabetes from underserved communities in NYC. To learn more, check out our project website: www.diabetesdetective.com
Learner-centered crowdsourcing
The goal of this research is to investigate a new breed of social computing mechanism that blend together the benefits of online health communities, crowdsourcing, and online learning environments.
Facilitating interdisciplinary clinical communication
Increasingly, patient care is delivered by teams of clinicians, who come from different educational backgrounds and often have different priorities in regards to patient care. Yet to provide best care to the patients these clinicians must act as a unified whole with aligned priorities and coordinated actions. This project aims to create new tools for facilitating communication and coordination within interdisciplinary patient care teams with the goal of improving quality of patient care.
Collective Sensemaking in Online Health Communities
In this project we investigate how individuals in online health communities collectively make sense of their health and diseases and learn from each other. This project is funded by the National Science Foundation award #422381, CHS: Small: Making sense of information in online discussion boards with novel social computing platforms.
Selected Papers (see full list)
<![if !vml]><![endif]>

Structured Scaffolding for Reflection and Problem-Solving in Diabetes Self-Management: Qualitative Study of Mobile Diabetes Detective

Mamykina, L., Heitkemper, E.M., Smaldone, A.M., Kukafka, R., Cole-Lewis, H., Davidson, P.G., Mynatt, E.D., Tobin, J.N., Cassells, A., Goodman, C., Hripcsak, G.,

J Am Med Inform Assoc. 2016 Jan 14. [Epub ahead of print].

<![if !vml]><![endif]>

Adopting the sensemaking perspective for chronic disease self-management

Lena Mamykina, Arlene M. Smaldone, Suzanne R. Bakken, J Biomed Inform. 2015 Aug;56:406-17. This paper is open-access; link to PubMed.

<![if !vml]><![endif]>

Participatory approach to the development of a knowledge base for problem-solving in diabetes self-management

Heather J Cole-Lewis, Arlene M Smaldone, Patricia R Davidson, Rita Kukafka, Jonathan N Tobin, Andrea Cassells, Elizabeth D Mynatt, George Hripcsak, Lena Mamykina, International Journal of Medical Informatics, 2105, in print.

<![if !vml]><![endif]>

Collective Sensemaking in Online Health Communities

Lena Mamykina, Drashko Nakjij, Noemie Elhadad, in Proceedings of the ACM SIGCHI conference on Human Factors in Computing Systems, CHI 2015, Seoul, South Korea, April 2015.

<![if !vml]><![endif]>

Clinical documentation: Composition or Synthesis?

Lena Mamykina, Peter Stetson, David Vawdrey, George Hripcsak, Journal of American Medical Informatics (JAMIA, 2012 Nov 1;19(6):1025-31). Link to PubMed.

<![if !vml]><![endif]>

Design Lessons from the Fastest Q&A Site in the West

Lena Mamykina, Bella Manoim, Manas Mittal, George Hripcsak, Bjorn Hartmann, in Proceedings of the SIGCHI Conference on Human Factors in Computing Systems, CHI 2011 (Vancouver, CA) [pdf]

<![if !vml]><![endif]>

Examining the Impact of Collaborative Tagging on Sensemaking in Nutrition Management

Lena Mamykina, Andrew D. Miller, Yevgeny Medynskiy, Catherine Grevet, Patricia R. Davidson, Michael A. Terry, Elizabeth D. Mynatt, in Proceedings of the SIGCHI Conference on Human Factors in Computing Systems, CHI 2011 (Vancouver, CA) [pdf]

<![if !vml]><![endif]>

Constructing Identities through Storytelling in Diabetes Management

Lena Mamykina, Andrew D. Miller, Elizabeth D. Mynatt,, in Proceedings of the SIGCHI Conference on Human Factors in Computing Systems, CHI 2010 (Atlanta, GA) [pdf]

<![if !vml]><![endif]>

MAHI: Investigating Social Scaffolding for Reflective Thinking in Diabetes Management

Lena Mamykina, Daniel Greenblatt, Patricia R., Davidson, Elizabeth D. Mynatt, in Proceedings of the SIGCHI Conference on Human Factors in Computing Systems, CHI 2008 (Florence, Italy) [pdf]