Lena Mamkina, Ph.D.
Assistant Professor
Department of Biomedical Informatics
Columbia University
<![if !vml]>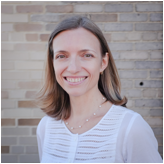 <![endif]>
Dr. Lena Mamykina is an Assistant Professor of Biomedical Informatics in the Department of Biomedical Informatics at Columbia University. Dr. Mamykina's primary research interests reside in the areas of Human-Computer Interaction, Ubiquitous and Pervasive Computing, and Computer-Supported Collaborative Work.
Dr. Mamykina's broad research interests include individual's sensemaking and problem-solving in context of health management, collective sensemaking within online health support communities, clinical reasoning and decision-making, communication and coordination of work in clinical teams, and ways to support these practices with informatics interventions.
Dr. Mamykina received her B.S. in Computer Science from the Ukrainian State University of Maritime Technology, M.S. in Human Computer Interaction from the Georgia Institute of Technology, Ph.D. in Human-Centered Computing from the Georgia Institute of Technology, and M.A. in Biomedical Informatics from Columbia University. Her dissertation work at Georgia Tech focused on facilitating reflection and learning in context of diabetes management with mobile and ubiquitous computing. Prior to joining DBMI as a faculty member, she completed a National Library of Medicine Post-Doctoral Fellowship at the department. CV
CONTACT
622 West 168th St. VC5
New York, NY 10032
Phone: (212) 305-3923
lena.mamykina[at]dbmi.columbia.edu
News
American Diabetes Association Annual Meeting: This year I will be giving an invited talk at the primary meeting of healthcare professionals specializing in diabetes care. I will be talking about novel computing and mobile technologies and their potential to facilitate diabetes management. The program is available here.
Collective Intelligence 2012:
April 2012, Boston, MA. The first workshop on Collective Intelligence attracted amazingly diverse participants from business, computer science, social sciences, among others. Check out the program here: http://www.ci2012.org/
Pervasive Program Committee:
February 2012, Palo Alto, CA. This year Pervasive will be held at Newcastle University, UK, in June 2012. To see more and to register, visit: http://pervasiveconference.org/2012/
Report on WISH 2012 in Interactions
January 2012, The report on WISH 2012 appeared in the Health Forums section of the January Issue of Interactions. [pdf]
AMIA Policy Meeting on Clinical Documentation:
December 2011, Washington DC. I was a member of the Steering Committee of the AMIA Policy Meeting on Clinical Documentation. The white paper describing workshop recommendations will be coming out later this year.
WISH 2011:
In October 2011 Madhu Reddy, myself, and Andrea Parker co-organized a second Workshop on Interactive Systems in Healthcare, co-located with AMIA 2011 Annual Symposium in Washington, DC http://wish2011.wordpress.com/.
Selected Papers (see all)
<![if !vml]><![endif]>

Clinical documentation: Composition or Synthesis?

Lena Mamykina, Peter Stetson, David Vawdrey, George Hripcsak, Journal of American Medical Informatics (JAMIA, under review)

<![if !vml]><![endif]>

Maintaining Common Ground during Transitions of Care

Lena Mamykina, Sarah Collins, David Kaufman, Journal of Critical Care (in preparation)

<![if !vml]><![endif]>

Design Lessons from the Fastest Q&A Site in the West

Lena Mamykina, Bella Manoim, Manas Mittal, George Hripcsak, Bjorn Hartmann, in Proceedings of the SIGCHI Conference on Human Factors in Computing Systems, CHI 2011 (Vancouver, CA) [pdf]

<![if !vml]><![endif]>

Examining the Impact of Collaborative Tagging on Sensemaking in Nutrition Management

Lena Mamykina, Andrew D. Miller, Yevgeny Medynskiy, Catherine Grevet, Patricia R. Davidson, Michael A. Terry, Elizabeth D. Mynatt, in Proceedings of the SIGCHI Conference on Human Factors in Computing Systems, CHI 2011 (Vancouver, CA) [pdf]

<![if !vml]><![endif]>

Constructing Identities through Storytelling in Diabetes Management

Lena Mamykina, Andrew D. Miller, Elizabeth D. Mynatt,, in Proceedings of the SIGCHI Conference on Human Factors in Computing Systems, CHI 2010 (Atlanta, GA) [pdf]

<![if !vml]><![endif]>

MAHI: Investigating Social Scaffolding for Reflective Thinking in Diabetes Management

Lena Mamykina, Daniel Greenblatt, Patricia R., Davidson, Elizabeth D. Mynatt, in Proceedings of the SIGCHI Conference on Human Factors in Computing Systems, CHI 2008 (Florence, Italy) [pdf]
Upcoming Travel and Talks
April 18-19
Collective Intelligence 2012, Boston, MA
May 5-10
CHI 2012, Austin, TX
June 8-12
Annual Meeting of American Diabetes Association, Philadelphia, PA